Advertisement


Sap,professional/practical accounting,core hr coaching
Published: August 03 for
Aparna
Practical CORE HR TRAINING OFFERS BY Tech Mania Solutions:-

As additional day-to-day HR decisions are delegated to line management, the role of personnel
and training specialists is changing. Aimed at those embarking on a career in HR or taking on
new HR responsibilities, this course provides a broad overview of HR issues.

Every business needs someone who understands finance& accounting. The sector is full of opportunities in areas such as Banking, Insurance, Corporate Finance & Accounting, Tax consulting, Share Broking firms, Mutual funds etc.

The Aim of This Course is Filling Gap Between Employer and Employee

TECH MANIA SOLUTIONS focuses on developing Finance & Accounting core skills for those preparing for a career . We offers you dynamic courses in Finance & Accounting with problem-solving and analytical skills mapped to match Ideal candidate profiles. TECH MANIA SOLUTIONS having direct access to over 125 clients across Andhra Pradesh.
Advertisement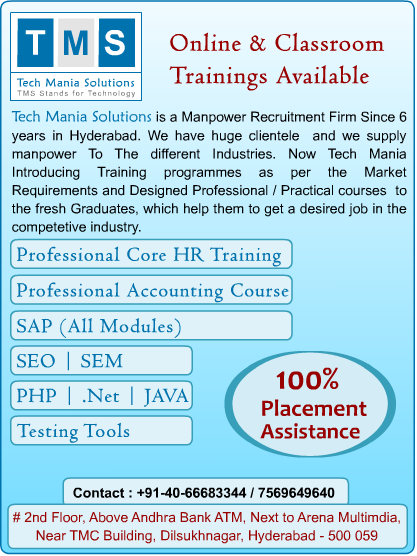 Sap,professional/practical accounting,core hr coaching
Write review
Leave your comments on this ad
Offensive messages and spam will be removed