Advertisement


SAP Cloud for Customer (SAP C4C) is a software-service platform (SaaS) for sales and
services.
. The platform consists of SAP Cloud for Sales and SAP Cloud for Service, which are marketed as separate entities by SAP.
SAP C4C is based on individual products -
1.SAP Cloud for Sales
2.SAP Cloud for Marketing
3.SAP Cloud for Social Engagement
key objectives of SAP Cloud for Customer -
1.Relationships
2.Collaboration
3.Insight
4.Business process
Benefits of SAP C4C:
1.One of the main benefits of using SAP C4C is the cost of operating expenses and maintenance of operations.You can take licenses according to your needs and this can be increased on demand.
2.The SAP C4C solution is managed by the vendor and all operational costs and maintenance are the responsibility of the vendor.
3.The SAP C4C solution allows you to manage customer needs from anywhere and with seven-level security from cloud service providers.You can access all customer information regardless of where it is stored or available.
4.SAP C4C is cloud-based and uses secure and fast communication using mobile, web-enabled, iOS, Android and Windows-based mobile platforms in both
online
and offline mode.
5.SAP C4C provides prepackaged integration for SAP ECC, CRM and Outlook. It includes the HTML5 user interface, the Silverlight user interface and IOS mobile apps, the Android platform and HANA HANA integration for HANA Cloud.
6.SAP C4C has a multi-user architecture where the solution and components are shared among multiple clients. It is possible to choose a single tenant by paying additional fees. In a multi-tenant environment, all updates and releases are based on C4C custom solutions for multiple clients.
training
cube provides a free demo and online training with certification. Join now.
For more details, Contact:
Email ID: Santosh@trainingcube.org
tel:+91 9848346149
Advertisement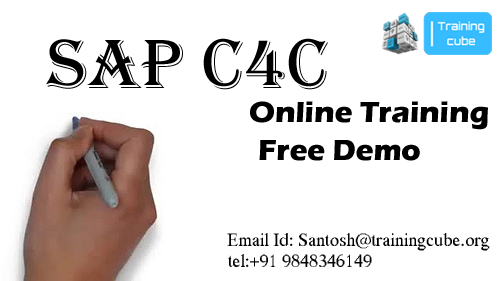 Sap c4c online training
Write review
Leave your comments on this ad
Offensive messages and spam will be removed