Excellent realtime online training on ssrs at sql school
SQL School provides Interactive and Practical LIVE
online
Trainings on T-SQL, SQL DBA and MSBI (SSIS, SSAS and SSRS). All sessions are completely PRACTICAL. No PPTs nor Screenshots during live sessions. We also provide Study and Practice Material.
Course Highlights for SQL Server Reporting Services (SSRS ) Online Training:
Need for Enterprise Reporting
Understanding and Configuring SSRS
Need for
Web Services
and Virtual Directories
Reporting life Cycle and SSRS Advantages
Designing Basics Table and Matrix Reports
Static & Dynamic Report Parameters & Filters
Chart and Bar Reports Properties
List and Rectangle Reports
Map, Data Bar and Indicator Reports
Sub Reports and Linked Reports
Gauges Reports and Dundas Report Control Operations
Cube Reports with MDX and DAX Expression Languages
Tuning Performance and Report Schedules
Report Caching, Refresh and Snapshot Options
Report Expressions and Dynamic Properties
Data Driven Subscriptions and Schedules
Report Snapshots and History Management
SSRS Data and Item Level Security Roles
Managing Reporting Services via SSRS Console
Report Delivery and Report Builder
Report Builder Usage and Limitations
SSRS Performance Monitors and Tuning
Custom Application Integration Principles
For complete SSRS course content - http://sqlschool.com/SSRS-Online-Training.html
Duration: 2 weeks, every day for 1.5 hours and all sessions are completely practical.
All sessions are on LIVE environment.
We also provide SSIS and SSAS LIVE Online Trainings along with Real Time Case Studies. For free Demo and further training details, please contact us.
SQL School Training Institute
contact@sqlschool.com
Office: (+91) 040 64577244
Mobile: (+91) 0 9666440801
Flat No: 302, Sai Manor Complex, X Roads, SR Nagar,
, Hyderabad,
, India.
http://sqlschool.com/
Write review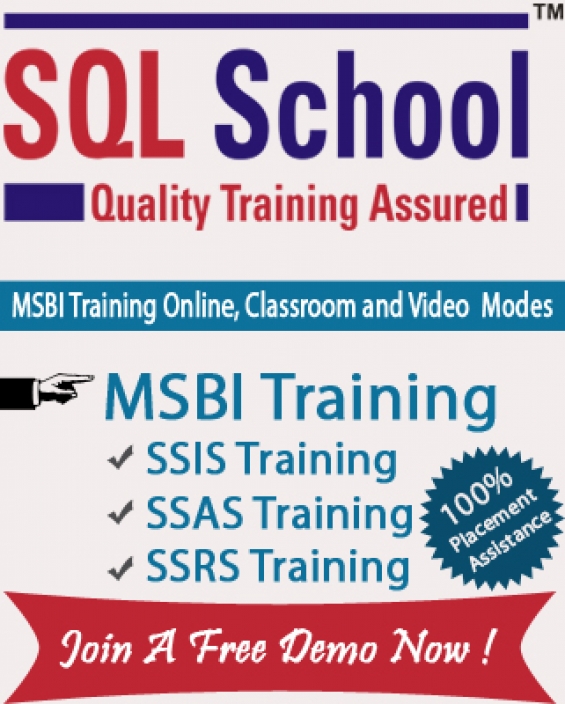 Excellent realtime online training on ssrs at sql school
Write review
Leave your comments on this ad
Offensive messages and spam will be removed